Our Mission
Waterville Main Street will advance efforts to develop the Downtown area into a thriving, energetic, commercial, social, cultural and entertainment destination.
A Main Street Maine Community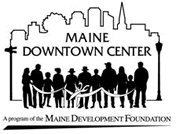 Waterville was designated as a Main Street Maine community in 2001 by the Maine Downtown Center and is accredited annually by the National Main Street Center, which is a program of the National Trust for Historic Preservation.  The Main Street Four Point Approach is a comprehensive and incremental approach to downtown revitalization and is being implemented in over 2,000 towns and cities throughout the country. Visit Maine Downtown Center for more information on the Main Street Maine program.
Waterville Main Street Board of Directors
Monthly Meeting Time: 4th Monday of the month, 5:15pm (at Mid-Maine Chamber of Commerce)
President: Charlie Giguere, President at Silver Street Tavern
Vice President: Buffy Higgins, Director of Revenue Cycle Performance Improvement at MaineGeneral
Treasurer: Nate Timmins, Staff Accountant at Nicholson, Michaud & Company
Secretary: Suzanne Culver, (Chair, Design Committee), Downtown Waterville Resident
Mikaela Ziobro, Director of Strategic Initiatives at Thomas College
Paul E. Ureneck, Director of Commercial Real Estate at Colby College
Amanda Cooley, (Chair, Organization Committee), Assistant Director at Goldfarb Center & Oak Institute, Colby College
Lori Gervais, (Chair, Promotion Committee), Front Desk, Gary C. Ferguson, DMD MS
Nathaniel White, Ward 2 City Councilor at City of Waterville
Rick Bryant, Lead Consultant at CGI
Eric Poirier, President, Poirier Capital Investment Group
Michelle Crocker, Vice President and Branch Manager at KeyBank
Jackie Dalton, Co-Executive Director at REM
Patricia Michaud, Customer Service Specialist at Mid-Maine Chamber of Commerce
Ellen Richmond, Owner at Children's Book Cellar
Waterville Main Street Staff
Interim Executive Director: Tracy O'Clair, President and CEO, TOCmedia
Office Manager: Kyrie Tompkins, Web Designer & Developer, TOCmedia
Committees
Economic Vitality Committee
The job of the Economic Vitality Committee is to identify new market opportunities for the traditional commercial district, find new uses for historic commercial buildings, and stimulate investment in property. The committee's main tasks include:
Learning about the district's current economic condition and identifying opportunities for market growth;
Strengthening existing businesses and recruiting new ones;
Finding new economic uses for traditional Main Street businesses;
Developing financial incentives and capital for building rehabilitations and business development; and
Monitoring the economic performance of the district.
Committee Members
Michelle Crocker, Chair
Patricia Michaud, Co-Chair
Leon Emery
Leah Toulouse
Jane Lynch
Joe Richards
Promotion Committee
The job of the Promotion Committee is to PROMOTE downtown as the center of commerce, culture, and community life for residents and visitors alike. The committee's main tasks include:
Understanding the changing market – both potential shoppers and "competition";
Identifying downtown assets – including people, buildings, heritage, and institutions;
Defining Main Street's market niche – its unique "position" in the marketplace; and finally
Creating new image campaigns, retail promotions, special events to bring people into our downtown.
Committee Members:
Lori Gervais, Chair
Jackie Dalton, Co-Chair
Leanne Town
Martha McCarthy
Cassie Ferris
Scott McAdoo
Malcolm Porter
Design Committee
The Design Committee plays a key role in shaping the physical image of Main Street as a place that is attractive to shoppers, investors, business owners, and visitors. The committee's main tasks include:
Educating others about good design – enhancing the image of each business as well as that of the district;
Providing good design advice – encouraging quality improvements to private properties and public spaces;
Planning Main Street's development – guiding future growth and shaping regulations; and
Motivating others to make changes – creating incentives and targeting key projects.
Committee Members:
Ellen Richmond, Chair
Tracy O'Clair, Co-Chair
Katie Leighton
Kristina Roderick
Carrie Haberstock
Organization Committee
The Organization Committee plays a key role in keeping the Waterville Main Street board, committees, staff, and programs in good shape by attracting people and funding to the organization. The committee's main tasks include:
Raising Money – for projects and administration, from donations and sponorships;
Managing staff and volunteers – by recruiting people, supervising them, and rewarding good work;
Promoting the program – to downtown interests and the public;
Managing finances – by developing good accounting procedures.
Committee Members: 
Amanda Cooley, Chair
Suzanne Culver, Co-Chair
Kim Goodwin
Lynn Dailey
Lindsy Hoopingarner
Shannon Burns